On the sixth spiritual evening of the series entitled "Jesus Christ: God-Man in the Orthodox Teaching", another gift from the Messiah was discussed – Freedom. Although it seems commonplace, we would not have had true freedom had the Messiah not brought it to us. It really only exists where Christ is.
The Savior says, "If you abide by My word, you are truly My disciples. And you will know the truth, and the truth will set you free" (John 8.31-32). By this, He implicitly shows us both that we are not free, and what we must do in order to be set free.
But freedom, in addition to being emancipation from slavery to sin, is also the trademark of man's relationship with God.
The Holy Apostle Paul depicts for us the cry of one who painfully realizes that he is a slave to sin: "for I do not the good that I want, but the evil that I do not want" (Romans 7.18-19). In order to be emancipated, we must first remain in the word of the Savior, that is, to know the Gospel and to be truly concerned with its fulfillment. St. Sophrony Sakharov says that the Gospel is the only mirror before which we see ourselves truly. Without the light of God, man does not know the truth that he is a sinner. So, in this sense, the truth leads us to repentance and to the realization that it is best to become a slave to Christ. Then, the Son will set us free from the bondage of sin (cf. John 8:36). This is the mechanism of our liberation, but we have to remember that it is not in our power. Only He, the Savior, can set us free. Therefore, deliverance is the first stage of freedom, as the Psalmist says: "If my people listened to me, if Israel would have walked my paths, I would have laid hold on my oppressors" (Psalm 80.12-13).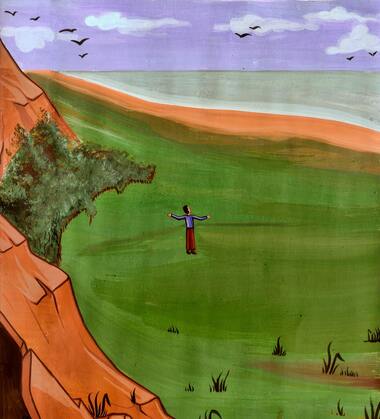 True freedom does not involve any form of evil, but rather it is the freedom to live in God, according to the desire of my heart. St. Paul tells us: "You, brethren, have been called to liberty; only use not liberty for an occasion to serve the flesh, but serve one another with love" (Galatians 5.13-14). This is true freedom: the freedom to grow in God, to live in His will. This is the essence of this gift, such that all the suffering in the world is due to the negative use of this gift. St. Silouan the Athonite captures this idea even better: "We believe that true freedom is not to sin, but to love God and neighbor wholeheartedly and with all our might." Therefore, not freedom to commit sin, but to grow in God. This is the freedom of the children of God, and we must fulfill it. The gift of freedom given by God is worked out if I become a follower of His commandments. This is how we will taste the full fruits of this gift.
But freedom has an absolute character in both directions. Father Dumitru Stăniloae tells us that there is no neutrality of freedom, the so-called free will, but that if we do not choose good, we will implicitly choose evil – "An absolutely neutral freedom for good and for evil, also called free will, does not exist. There is only a freedom that sustains evil, a false freedom, another freedom in good. In man, given the weakness of his nature and will, freedom is easily led to evil, or it has difficulty resisting temptations. It cannot commit itself to do an exclusively good deed. Free will, or absolutely neutral freedom, is an arbitrary construction of our thinking." The concept of free will is a philosophical construction; in reality, it does not exist. It is illusory to believe that man can choose both good and evil alike. A sin, once committed, limits and weakens the power to choose the good.
Father Stăniloae also says: "Freedom is not a whim, it is not freedom for sins, which in fact means slavery, narrowing in selfishness, the repetition of the same passions that override our freedom… That is why in Greek, the word for 'freedom' (ἐλευθερία) also refers to the state of being your own master." And further: "The Virgin Mary is the first truly free being in history. She keeps herself free from all sin and freely responds to God's love with a love that is not frayed by dissension."
We, likewise, in our relationship with God, must reach the level where any spiritual struggle we offer is completely free, out of our own will, out of love. St. Sophrony says, "Any work that does not flow forth from perfect freedom cannot have any eternal value."
The freedom we have received as a gift from God involves great maturity, responsibility, and dignity on our part. This is how God wants us to be.