On the 31st Sunday after Pentecost, we heard the Gospel reading about the healing of the blind man from Jericho. Through his powerful faith and his cry from the depths with the Prayer of Jesus – "Jesus, Son of David, (i.e., Messiah-Christ), have mercy on me!" (Luke 18.38), the son of Timmaeus received back his sight. Both his physical sight as well as his spiritual sight – he saw that Jesus is Messiah, the One Sent by God, and he followed Him.
We will try to say a few words about spiritual vision, not its most exalted form, which is not accessible to us, but its basic form, which nonetheless is sufficient for our salvation.
The Epistle reading today, 1 Timothy 1.15-17, was ordained for this very reason. For, we know well, the Holy Apostle Paul was himself blind. And he was enlightened by God on the road to Damascus. The Epistle makes the link between the natural vision that the blind man received and the spiritual vision that the Holy Apostle Paul acquired on the road to Damascus. In Saint Paul, we see the difference between the two types of vision: natural and spiritual. Nothing physical changed in Paul. Before, he saw as he believed to be best, relying on his knowledge of the Old Testament to justify his conviction that Jesus was the greatest possible evil Whom he was called to repudiate. After the road to Damascus, we see Saint Paul is granted spiritual vision, and the Savior shows him that the reality is exactly the opposite. Thus, we see how one who is not physically blind can still be spiritually blind.
In particular, for us in the Church, the beauty, intelligence, and virtues of man are of little importance – Paul was virtuous, as he would later recount (cf. Philippians 3.6), he was righteous according to the law, but this did not matter. What matters is God's grace. God's grace is what transforms natural vision into spiritual vision. We see this in Saint Paul. Without His grace, no one can believe that God exists. Faith (spiritual vision) is a grace. And how does it come? Alas, what did our Fathers during the communist period do in the prisons and the monasteries? They maintained the flame of grace. In their flame, we saw God and believed. Not through our merits, but through the grace of God, which is shared in communion from person to person.
This is why we, if we have received grace or spiritual vision, bear the responsibility of keeping the fire of grace aflame within us. As Father Arsenie Papacioc would say: "light the fire in yourself and God will take care to use your fire to light the fire in others." This is how we can help others, without even realizing it ourselves. Again, in the light of grace that our Fathers received, we saw God and thus we believed and followed Him. In every generation we need to preserve grace. And this is not easy. We must imitate the work of our Fathers. We must sacrifice ourselves as they sacrificed themselves. We must humble ourselves as they humbled themselves.
Since we said that we want to talk about basic spiritual vision, let us observe its characteristics from the verses of today's Epistle. Saint Paul, of course, had an extraordinary and special grace. However, the basic characteristics are common among all forms of spiritual vision. And what are these exactly? "This is a faithful saying and worthy of all acceptance, that Christ Jesus came into the world to save sinners, of whom I am chief" (1 Timothy 1.15). Thus, one characteristic of spiritual vision is to see yourself as sinful. And if you are Saint Paul, meaning very advanced, the greatest sinner. "However, for this reason I obtained mercy, that in me first Jesus Christ might show all longsuffering, as a pattern to those who are going to believe on Him for everlasting life" (1 Timothy 1.16). The second characteristic of spiritual vision is to sense the goodness, love, and longsuffering of God. If I feel in my heart these two things: that I am a sinner, but that God is loving and longsuffering, then I have spiritual vision. This is basic, but sufficient for salvation.
You see, it is possible for one of these two characteristics to be lacking. We see, for example, that many modern forms of spirituality say that God is good, that He loves us as we are, that we do not need to change, etc. These spiritualities do not have the first characteristic, which is the awareness of my sinfulness. This is not vision with one eye, but blindness. And in the other direction, there are people who condemn themselves, who see their sins, but who do not feel God's goodness in their heart. This is also spiritual blindness. Spiritual vision has both: both the awareness of my sinfulness and the heartfelt perception of God's goodness. It is not possible to embark on an authentic path of repentance without first feeling just how much God loves you. Do not try, because in this way we will hurt ourselves. It is as if we embark on our journey blind; we hurt ourselves.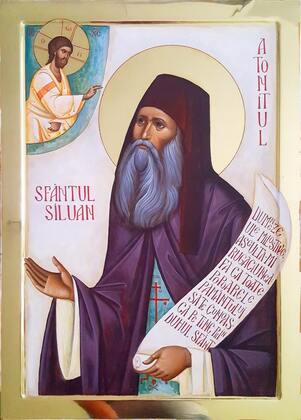 Let us recall from the life of Saint Silouan the Athonite a moment of spiritual vision. When he was young, he was tricked by the flesh, by the flesh's beauty, and slipped into sin. But a decisive moment in his life was when he fell asleep during the daytime, dreamed that a snake was entering his mouth, and thus was disgusted. And being disgusted, he awoke and, while waking up, he heard a sweet female voice saying, "Behold, this is how I am disgusted by your sins." It was the voice of the Mother of God. The Saint says that he remembered that sweet voice his entire life. We see here both of the necessary characteristics: first, he saw just how sinful he was and how disgustful his sin was, and at the same time, he always remembered the sweetness and delicacy of that voice. Of course, God does not condone sin, He exposes it and we cannot be united with Him if we have sins, but He does not disdain or injure the sinner.
Thus, to have spiritual vision, we need to receive the grace of God. Father Arsenie Papacioc said: "Acquire the Holy Spirit. The Holy Spirit cannot resist the prayer of a humble heart." And if we know how to humble ourselves and we pray thus, the Holy Spirit will be with us and we will preserve our spiritual vision.
I am a sinner, the greatest sinner, but God is very good, His goodness surpasses all expression. This is the basic spiritual vision, sufficient to make great strides upon the path to salvation.