Archbishop Victorin was very calm, he spoke little, and one felt utter peace when around him. From time to time, he visited St. Nicholas Church in New York. Together with Father Vasile Vasilachi, they performed Holy Unction services for the people who were very sick or almost dying. Many were healed and still live today.
Archbishop Victorin was very modest; when he came to visit Saint Nicholas, he never left the church and even slept in there on a cot (without a mattress).
He paid us his last visit when he returned from Romania, after he resigned as archbishop. It was May, and in July he passed to the Lord. His luggage was full of icons. He was very discouraged. When he left, my dad and I drove him to Penn Station to catch the Greyhound bus to Chicago where he lived. He generally traveled by bus from New York to Chicago and everywhere. At Penn Station, everyone knew him and considered him a "saint." Because he had to transfer buses on the way to Chicago, I went to talk to the driver to help him with the luggage and give him some money for it. Father told me there was no need, that by the time he got off the first bus, the luggage would already be transferred by the other passengers.
I also heard from a non-Orthodox person: "There were two men at the Romanian Consulate with long white beards who looked like two saints!" I knew whom he meant: Archbishop Victorin and Father Vasile Vasilachi. Just as we consider them "saints," those who did not know them saw them the same way. May their memory be eternal!
Lucia V. Sarchisian
Myrrh Fragrance
My name is Dumitru Ungureanu, and I am a founding member of St. Nicholas Church in Queens, NY, and St. Dumitru Monastery in Middletown, NY.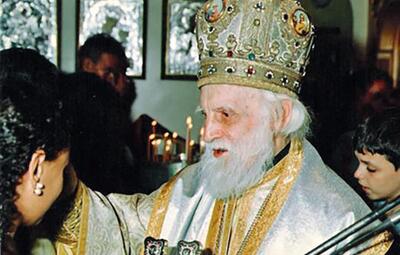 At a medical check-up at the age of 38, I found out that the hepatitis B, from which I had suffered as a child, had become chronic and active. This meant that the liver was beginning to be destroyed by the virus. There were no drugs to kill the hepatitis B virus. I was treated for a year with a form of gamma globulin to help the body fight the virus and stop the disease from progressing. When the treatment stopped, the virus returned. The doctors told us that they were working on testing and approving an antiviral drug that could keep the virus under control. Meanwhile, my liver tests were getting worse. After a checkup, desperate, we decided to go to see Father Vasilache. When we arrived at the church, we found out that His Eminence Victorin was also there. Then they decided to officiate the service of Holy Unction together with then-chanter and later priest, Gheorghiță Zugravu.
During the service I sensed a strong fragrance, which continued for several days while I was home. After the service, Father Vasile opened the Gospel and told us: "Go in peace and have confidence that everything will be fine."
We received an appointment with the liver specialist after a few weeks to see how the tests were and to schedule a liver biopsy. We learned that the drug that was to be approved in the United States in the next two years had already been approved and we could use it. This medicine was used only to keep the virus under control, but not to destroy it. I must mention that when I left the doctor's office, I realized that it was a feast day: the Transfiguration of the Lord.
The prayers of the fathers continued. We were given the blessing to read the Psalter at twelve o'clock every night.
During the treatment, I felt well, and the laboratory tests showed that the virus decreased until it reached a very low, undetectable level. I continued the treatment for several years for fear that the virus would return.
A medical check-up with a different doctor showed that the virus no longer existed, the body had produced antibodies to the hepatitis B virus, and my liver tests looked perfect. Everything was as if I had never had chronic hepatitis. With fear but also with trust in God, I stopped the medicine, and I was tested again by different laboratories, but the result remained the same: there was no virus and antibodies were present. Total healing. Even today my liver tests are perfect. And just when I think that one of the doctors asked me before the treatment why I didn't sign up for a liver transplant, I realize how serious the disease was and how much we appreciate the healing!
Dumitru Ungureanu