"The fear of God is the beginning of wisdom; but the ungodly despise wisdom and instruction" (Proverbs 1.7);
"The fear of the Lord is the beginning of wisdom, and the counsel of saints is understanding" (Proverbs 9.10);
"The beginning of wisdom is the fear of the Lord; a good understanding is in all who practice it. His praise continues unto ages of ages" (Psalms 110.10)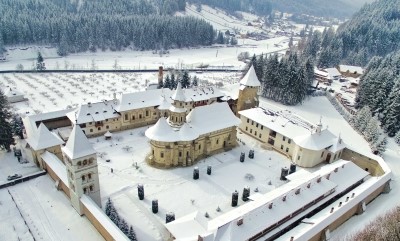 To all those who believe in God, and even more so to us Christians, the fear of the Lord has been and continues to be the foundation upon which we build our souls' abode. But this is certainly known to the enemy of our souls, the devil. And because by being unable to self-sustain his life, he cannot really be a source for anything, he cannot be original either. Originality, as an unexpected solution, is a gift that only man received from God, to facilitate man's dialogue with Him so that the relationship between them evolve from the state of subordination to that of working together in familiarity as Christ Himself said, "No longer do I call you servants, for a servant does not know what his master is doing; but I have called you friends, for all the things that I heard from My Father I have made known to you" (John 15.15).
Such a position toward God cannot be the result of external coincidences or interventions. Man cannot acquire familiarity with God by sleeping—in other words, passively—but he must also desire it fervently (and increasingly so). Therefore, if to the fear of God, man adds the desire to be with God, the road will be set aright, and man will acquire true wisdom and the art of salvation. Thus, what began with the "fear of the Lord" will end (read here "will be crowned") with the "love of God," which is fullness of wisdom because it puts an end to that aspect of dread that overshadows the true fear of God: "There is no fear in love; but perfect love casts out fear, because fear involves torment. But he who fears has not been made perfect in love" (1 John 4.18).
Behold the two essential elements of our salvation: the fear of the Lord and the longing for the Lord!
If we understand that these two elements can neither be separated nor understood independently of each other, our path will not stray. A brief example of what I just stated is how we understand this "fear" of God. If we try to understand it independently from the longing for the Lord, we will slowly but surely turn away from Him. But if, on the contrary, we twin them, then not only will we understand them, but we will also experience this "fear" as the fear of not grieving Him who loves us, as the fear of not scandalizing the love of our Most Desired One. In this way, fear and longing will be twinned, potentiating each other and bearing fruit in our spiritual life.
Regrettably, we notice that nowadays fear has turned into dread, and contemporary man is the slave of a civilization that feeds on anxieties and produces morbidities, turning him into a fugitive. Depression has become a mainstay feature, elevated from the stage of illness to the rank of adornment, receiving the function of justification. What is sadder is the fact that young people are the most affected by these behavioral deviations. I cannot forget something that happened while I was anointing the faithful. I was struck by the sight of a very young girl, crying aloud. I asked her why she was crying, and she told me that fear was the reason. That unsettled me because I had never met someone so young crying so hard … out of fear! So I asked her, "What are you afraid of?" "Of what will be. I am afraid of what is coming over us!" Disturbing! Such an irrational fear which somehow seemed to have nestled so securely in this girl's heart … One does not expect such a thing from a young person. Why? Precisely for the reason stated above; because the young person is one in whom the two essential elements—fear and longing—are in the highest concentration. Additionally, the young person should be the most protected from depression because his or her longing is so strong that it can transfigure fear. So then why? Because we forget that in this "equation" the perturbing factor—the devil—intervenes always. I said at the beginning that he cannot be original, which is why his work is only an alteration of God's work. All he practices is monkey business! And this is what he does with the two elements: fear and longing. The Holy Fathers showed us that at the foundation of any passion (the absolute in this case is logical, given the lack of originality) lies one of these two (and sometimes both): fear and desire!
This is how the "fear of God" turned into dread; the fear of losing God's love transformed into the fear of not getting hurt—the flight from suffering. And this is how the longing for God, for His love, transformed into selfish desire.
It can be easily seen that what underlies these transformations is our person. Slowly or fast, in a more obvious or veiled way, we set ourselves in the center. The solution is love! Only love, as Father Dumitru Stăniloae used to say, can singularly heal any passion and, more importantly, it can also teach us that the meaning of life, death, salvation—in a word, MEANING itself—ought not to be sought within but without us, in the relationship of the love we need for the simple fact that we were created out of love and for love.
I will say one thing that may disturb you: Our meaning, the meaning of the whole Creation, is not God! God is not at the center! At the center of all, there where MEANING is as well, is GOD'S LOVE!
The sooner we understand this, the more we will be able to "activate" our fear of and longing for the Lord, which are powers planted in us from the beginning: "The beginning of wisdom is to fear the Lord, and she was joined with faithful in the womb. She constructed a foundation of life among men, and will be trusted among their seed" (Wisdom of Sirach 1.12–13).
Let us longingly seek the love of the Lord, and may fear keep us from scandalizing it!
Protosyngellos Hrisostom Ciuciu