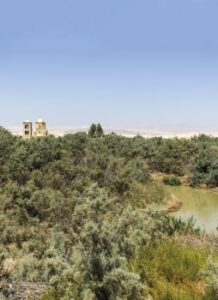 You are upset now, Jordan,
And stopped your merry flow.
Concealed within your banks,
And hidden deep below!
Seeing your pillaged valley
Of human greed and harm,
Lessened your wealth of waters
And all its native charm.
The desert is now scared
Of deafening machines
There is no living creature,
No birds and no wild fiends.
Devoid of hermits, valley,
Today your wonder's hampered
For daily treads upon it
A world so new and pampered.
O Baptist, O Forerunner,
If you came back once more
You would not know the wilds,
The waters from before!
Show people yet again
"God's Lamb" without a sin
To many He's unknown,
And some even spurn Him!
Hieroschemamonk John