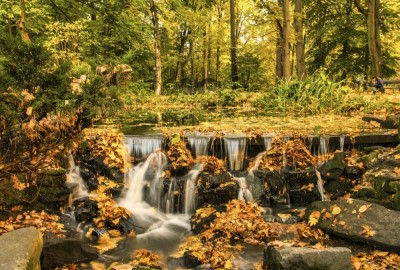 And after running all over barefoot, getting stung and hurt, after being offered millions of pairs of fake shoes, which only hinder you, you finally get to the real ones—your shoes. Then you are ready, the search ended unbeknownst to you, but you feel it is time to stop this useless run and set out on the real road.
I wasted many days of my life trying to be different from how I am. Surrounded by countless "models" powerful through that apparent perfection of our day, I thought that was how I ought to be. I so wrongly associated sensitivity, meekness, human warmth with weakness. I saw the calm, delicate attitude as a lackluster, unimportant one. Falls were forbidden, always for others and not for me. I was always to be seen, or else I did not exist. And of course, I did not exist, at least not in the version that always demanded that I be the center of attention. Years of struggling, hours in which I did nothing but convince myself that I was different from who I am. There was so much inner torment when I failed to be as I "must" be. But my true nature often resurfaced, just as light breaks through under a closed door. Beyond my indifferent, indestructible attitude, always arm in arm with witticisms, I was sometimes surprised when I found myself vibrating because of some lyrics, crying the pain of an old person, or trembling with fear when facing obstacles. Naturally, after many tried on masks, I finally met myself. Because it had become tiresome to "put on" my makeup every day. A meeting with a "me" about whom I did not know much because I had been looking for another for so long …
The first clear mirror was the permanent uneasiness, the state of dissatisfaction I had, the compulsion always to say or do things in a certain way; then, God's love was revealed through the words of my spiritual father, who always spoke to me from inward my soul toward my ears. Dust had gathered on great parts of the soul covered with this false struggle. I still remember the first confession; I repeat in my mind the words he told me—they sounded so different from the way I had molded myself … Later, slowly by slowly, my fight transformed … I wanted to find my countenance, my soul … and glory be to God! it happened. After countless shoes, I found the right pair for me. The mask soaked in mistakes cracked, then disappeared.
Now, in fighting the good fight, behold, I found my shoes. They were at the gate of my soul, in the realm of my heart. They are simple and clean, much too clean, because I have not worn them for years. But now I feel a little more prepared because I put on the right shoes. I pushed aside the heavy boots in which I kept getting stuck. It is all good now—there is a whole lot of springtime in these shows. And they don't run, they float; and when it rains, they get wet, but they don't break, and they don't give in either because they are brave, although they were told they were not. I know it was not so, because despite the weather, they persevered.
In my shoes there is sun, poetry, and struggle. A warm struggle now. They are not too far from the ground, but certainly not cleaving to it. They are loyal. Although they are springtime-bearers, when winter came, instead of warming them up close to my chest, I would take them and toss them in the cold, out of hatred and despair, because they sometimes slipped on the snow. Again and again, I forgot about my dear soul; I hurt her constantly. Luckily, the Good God waited for me, comforted me, and He still does … Tenderly and warmly, on the crown of my soul.
My shoes are imperfect, with tips that are a bit dull, a bit shy to hear but gentle and brave because summer or autumn, they float. They float incessantly, clumsily, but shine through their striving. And when the fight is in full swing, they scatter a bit of spring and then the sun rises.
I do not want to take off my shoes anymore! I want to go to battle with them because I am tired of my poor bare feet, of boots, and of stones. There is springtime and poetry in my shoes; they are replete with falls but also with the hope of attainment! Lord, help me!
Mihaela Dumitru