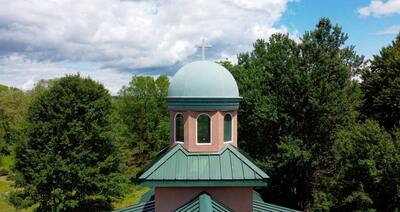 On the fifth Sunday after Pentecost, we read from the holy Apostle Paul's Epistle to the Romans, beginning of chapter ten. "Brethren, my heart's desire and prayer to God for Israel is that they may be saved" (1). So he was talking to the Romans about the Jews. "For I bear them witness that they have zeal for God, but not according to knowledge. For they, being ignorant of God's righteousness and seeking to establish their righteousness, have not submitted to the righteousness of God. For Christ is the end of the law for righteousness to everyone who believes" (2–3). And I would stop here because this is what I would like to develop. St Paul loved his people, naturally. Elsewhere, he says, "I could wish that I myself were accursed from Christ for my brethren" (Romans 9.3)—that is, burned alive and separated from God, so that Israel may be saved. And here he says, "For I bear them witness that they have zeal for God" and that is exactly right because the Hebrews were zealous and carried the burden on earth until the Christians came, who then took on the weight of the world. But they were the first who tried to be true believers in a world of idols, of devils, who deceived people and made them worship them, as is the case even now in India and elsewhere.
The Jews suffered greatly, they learned to be faithful to God the hard way, but they learned in the end, nevertheless. And they have the great merit of keeping the revelation given to them until the coming of the Messiah. The Messiah—that is, Christ, the Anointed One. Their merit cannot be put into words. But, says St Paul, although they have zeal, it is not "according to knowledge." Saint Silouan the Athonite, a great saint of the twentieth century, uses a very good image in this regard. He says that there are roosters and there are eagles. The rooster in his yard is the coolest, the biggest, and he thinks no one is better than he is. But then there are eagles, which fly high and see all from above. So, far beyond a mere domestic rooster. Most of the time, man gives and does everything he can and then thinks he is in control and knows all. And he stops there; he limits himself. He does not grasp how confined he is. A created being, he cannot fathom the uncreated. He does not know what that means.
Although the Jews knew the Scriptures, the revelation accorded to them by God, they were ignorant because they could not know the righteousness of God. He is above all. And St Paul goes on to say that the Hebrews, "not knowing the righteousness of God"—and we will discuss what this righteousness means—"being ignorant of God's righteousness and seeking to establish their righteousness, have not submitted to the righteousness of God."
We do that too. We try to cope with the difficulties of life and then we endeavor to pray, to do some of God's things. And at some point, again, humanly, we somehow infatuate ourselves with them. So we establish our righteousness, in which we believe and which we impose on ourselves. Then we want others to respect it, even God. The Jewish people—we have this image for them—did have righteousness according to the Old Testament. They had the Sabbath and other things, but the Son of God was not part of their righteousness. And so, He was crucified. We do the same. We have our righteousness, and we exclude even God and the neighbor who does not respect it. And we sin greatly without knowing it. Therefore, the great problem of man is that, not knowing what God means, what perfection and loftiness are, he limits himself. And then he crows and gets cocky like a rooster.
Pride blinds us, sin blinds us. That is why St Paul said that he also, being a Hebrew of the Hebrews, had more confidence in the flesh than they; concerning the law, he was a Pharisee; concerning the righteousness that was in the law, he was blameless. Yet he counted them as rubbish, that he may gain Christ (cf. Philippians 3.4–8). That is the distance from man to God, from earth to heaven. Christ came and showed us the righteousness of God.
And let us now talk a bit about what God's righteousness is. The devil's righteousness is to repay evil for good, human righteousness is to repay good for good, and God's righteousness is to repay good for evil. It is God's righteousness to crucify His Son on the Cross for His enemies. It is far beyond what man can comprehend. That is why the Holy Fathers say that the Savior came and showed us God's great love. We see it on the Cross. There we see His love, for the Cross is terrible and foolish. And how far above is He to man—He is crucified for His enemies' sake. Scripture tells us that "he who sins is of the devil" (1 John 3.8). We also know from Scripture that if we say we have no sin, we deceive ourselves (cf. 1 John 1.8). So we are all of the devil and enemies of God. As a contemporary father says, we all gather at the Liturgy—a crowd of God's enemies—and He comes, incarnates, and gives Himself to us to partake of Him. If only we could learn a little from Him, from true love!
This is the diagnosis: not knowing God's righteousness, His perfection, His unfathomable love—beyond what man can understand—the Jewish people did not submit to God's righteousness but tried to establish their own along with all the arguments they had. And this is what I wanted to emphasize: that we should be careful—everyone on earth—because we have this tendency to put ourselves forth, to assert ourselves.
Let us pay attention to this great temptation of the created man. The temptation to self-deify, that is, to assert oneself. A holy father noted that throughout the Gospel the Savior rejected any temptation of self-deification. That is why when He multiplied the loaves, He prayed as if He were not God. He said, "He who does not love Me does not keep My words; and the word which you hear is not Mine but the Father's who sent Me" (John 14.24). He never asserted Himself although He was God and could do it. Particularly to teach us not to it either. Because this is man's greatest temptation. We seek argumentation in everything and establish our righteousness, and then we charge forward bullheadedly. But we are far from God's righteousness.
Related to the above, here is an exchange between Father Teofil Părăian, a blind, pure, beautiful monk and Father Arsenie Papacioc. At one point, Father Teofil, more Transylvanian, more direct, more of a straight shooter, asked Father Arsenie, "Father, do you have the certainty of salvation?" "I can't say that I do," Father Arsenie replied. "Well, why not? You have served God all your life." "Yes, but I still can't say it." And they kept talking. Father Teofil could not imagine that after serving God all his life, He would say, "Go away from Me because I do not want you." The dialogue continued and neither could succeed despite their arguments. And at the end, Father Arsenie, to justify his position, his depth of humility, said, "Salvation is by grace, a gift from God, and only through Him are we saved; not by merit, but by grace. Grace comes if I am humble. Can I say I'm humble? Never! That is why I cannot say that I am saved." How interesting! Here he was: Father Arsenie, who spent 14 years in prison, with beatings, shedding of blood, martyrdom, torment for Christ, but who could not consider himself humble and thus not saved. This is the image of the man who does not care for his own righteousness, but for the righteousness of God. Of course, the Lord loves and saves us, but He is free, we cannot force Him with anything. That is how we remain in humility.
We have to understand that we all must be watchful and keep ourselves humble, not be blinded by our own righteousness and in so doing, come to oppose God's righteousness.