Dear friends of Saint Dumitru Monastery,
Feast Day. We have the joy of inviting you to our monastery's fall feast day, in honor of Saint Dimitrie the New, which we will celebrate on Saturday, October 29. His Eminence Metropolitan Nicolae will be present in our midst, together with a large number of priests. Vespers will be served on Friday evening beginning at 7pm, and the Divine Liturgy for the feast will begin on Saturday at 10am.
Pavilion. By God's grace, and by your efforts and prayers, the pavilion which we began building after our summer feast day is almost complete. We hope to be able to host our feast day service and the communal agape meal under its roof. We are attaching a photo with the current stage of construction. The service of blessing of the new pavilion will be served on the eve, after Vespers.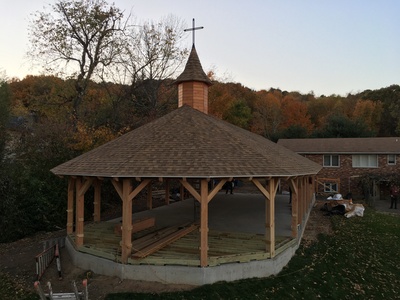 Holy Relics. His Eminence Nicolae will bring the relics of the Holy Voivode Martyr Constantin Brâncoveanu with him to our feast day. We will all have the opportunity to venerate them on the day of the feast.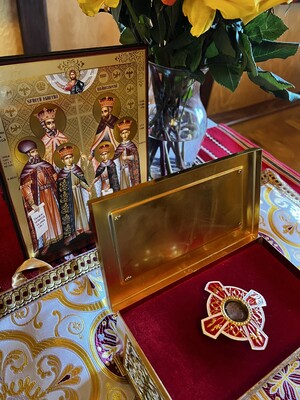 Bilingual Akathist. Also on this occasion, we will inaugurate the bilingual Akathist (Romanian-English) of our patron, Saint Dimitrie. Everyone who is present will receive a copy as a blessing from our monastery.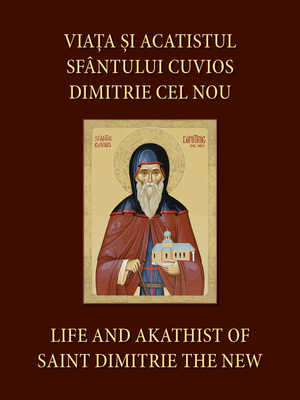 We hope that your schedule will permit you to participate, so that we may rejoice together in the grace of the saints, services, prayers, and brotherly love. As usual, we will express our joy and faith also in song.
We are looking forward to seeing you.
In Christ, our Lord and Savior,
Protosinghel Ieremia
Abbot of Saint Dumitru Monastery