In the month of August, on the eve of Transfiguration, we commemorate a saint dear to us, John Jacob, whose incorrupt and complete relics are preserved for veneration in the church of the Monastery of St. George the Chozebite. Two issues ago, we published a unique and extraordinary testimony about Archbishop Victorin Ursache, who led a holy life. The testimony belonged to a mutual friend of Father Victorin and Saint John Jacob, the Palestinian gentleman Paul Isiid, who reposed in the Lord in 1994. The testimony reached us through the goodwill of Father Dr. Porphyrios Georgi, professor of Dogmatic Theology at the Saint John of Damascus Institute of Theology, University of Balamand. Father Porphyrios also shared with us the following testimony, also from Paul Isiid, about Saint John Jacob.
Paul Isiid, a faithful Christian from Palestine, was a close friend of the monks and hermits of the Holy Land, such as Bishop Victorin Ursache, Archimandrite Lazarus Moore, and many other luminous personalities of the 20th century…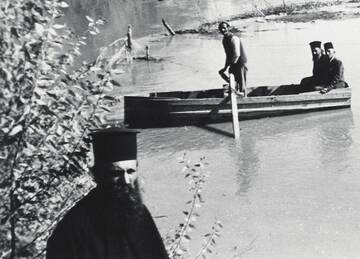 He would advise the youth in parishes who were zealous for the spiritual and ascetic life to not fast so strictly. He would say that "it's our responsibility to maintain our bodies in a healthy state so that we may fulfill our duties in life and serve the Lord." And as an example of a monk of holy life, who melted his body away in fasting and asceticism, he brought his close friend, dear to his heart, a Romanian ascetic who lived in a cave in the Holy Land. In his wallet, Paul always kept a photograph of this friend, who was 47 years old and whose name was John Jacob. Paul would say: "Father John Jacob was a true saint of God, an angelic person." But he would add: "He exaggerated with fasting! He melted his body away! When the war in Palestine intensified, he was very sick. I couldn't make it to his cave because I had already fled the country. I sent a trustworthy friend, a driver, to take him to the hospital. But the driver returned to me and said that he couldn't lift Father John up into his car because his body was so weakened from fasting that his bones were almost protruding from his skin. He couldn't sit in the seat; his hip bones would have torn his skin off his back. So, Father John remained in his cave and died there."
Paul thought that such degrees of fasting and strict ascetic life should be avoided.
In the summer of 1993, God blessed me and I visited Mount Athos with a small group of close friends from the church in Beirut. At the Skete of Saint Anna, we met a Greek who was fascinated to learn that we come from the Middle East. He told us he had visited our country and the Holy Land and that he had very nice memories of his travels. And he began describing what he liked the most: "The Holy Sepulchre…" But something else impressed him deeply: seeing the relics of a Romanian ascetic. He told us how a divine fragrance emanated from the tomb of a Romanian monk, and the fathers decided to open the tomb and they discovered the incorrupt relics of an ascetic. Even his skin and his hair were preserved. And the divine fragrance continued to emanate from the relics. The name of the ascetic was John Jacob.
When I returned to Beirut, I went immediately to Paul's home to tell him about his old friend. He was deeply moved by the miracle of Father John Jacob's relics. He showed me more pictures with Father John Jacob from the Monastery of Saint Sabbas, inside his cave, and in other places. Likewise, he showed me a letter from Father John Jacob, written in French in a beautiful calligraphic script. He said these were blessings from a Saint.
In the spring of 1994, a few days before Paul reposed, I met him for the last time at his home. He told me: "Sometimes, you live your entire life with certain convictions, only to discover at the end of your life that you were mistaken. I was wrong to criticize the strict fasting that Father John Jacob practiced. He knew very well what he was doing. He was a great saint of God."
By his prayers, O Lord Jesus Christ, our God, have mercy on us. Amen.