In our backyard, there is a small tree which has grown very close to the living room window. On its branches covered with flowers, leaves, or snow, depending on the season, there are often many bright colored birds; some of them are quiet, others are noisy. I enjoy watching them very much, as they remind me of a saint very dear to my heart: Saint Teodora of Sihla.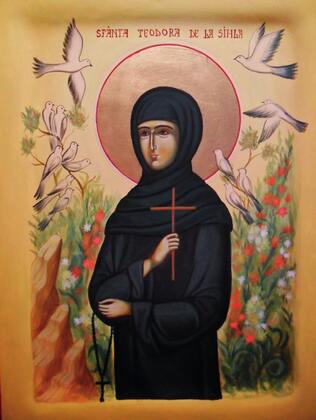 I had heard Saint Teodora's name a long time ago, but I only recently learned more about her when I visited Sihăstria Monastery in Romania. I was deeply moved when I read about her life. Saint Teodora was born in the Vȃnători village, of Neamț County in Romania, during the first half of the 17th century. She grew up in the fear of God as a young child and continued to flourish spiritually over the years. She would have liked to enter into the monastic life, but she obeyed her parents' wishes for her and got married. Witnessing her zeal in spiritual life and her burning love for Christ, her husband allowed her to leave for a monastery. After one year, he also entered into the monastic life and was tonsured with the name Elefterie. At the monastery, Saint Teodora advanced in obedience, prayer, and the ascetical way of life. Because of the invasion of the Turks, she fled into the mountains with other nuns, and after a while, she remained there alone. From that moment forward, she lived an eremitical life in a cave at Sihla: fasting, praying without ceasing, and dedicating her life entirely to Christ, her Bridegroom. When she felt that the end of the earthly life was near, she prayed to God to not allow her to die without receiving Holy Communion. God answered her prayers: He sent birds in flight to the trapeza of Sihăstria Skete to bring bread crumbs in their beaks back to her at the cave. Witnessing the unusual behavior of the birds several times, the monks from the monastery started to wonder about it. The Holy Spirit enlightened them with the understanding that the birds were sent by God to a hermit. Two brothers from the monastery followed the birds until they arrived at Saint Teodora's cave, where they were awed by what they saw: "a blaze of rays shining at the entrance of a cave, like a tongue of fire rising toward the sky, and in the middle of it, they saw a person levitating above the ground, with her arms raised toward the sky," as described by Archimandrite Ioanichie Bălan from Sihăstria Monastery. The following day, the Fathers from the monastery came to the cave to give Saint Teodora Holy Communion. She told them about her life, then made the sign of the Cross and fell asleep in the Lord.
Since I read about the life of Saint Teodora, I felt great piety toward her. In addition to her perseverance in the ascetical life and her burning love for Christ, I was deeply impressed by two of her personality traits, which also help me to grow in my faith. First of all, Saint Teodora showed perfect obedience to all those around her during her entire life: to her earthly parents, to her husband, and to her spiritual parents. Even though she desired with all her heart to become a nun, she obeyed her parents and got married without objecting. From the teachings of the Holy Fathers, we know that obedience is considered to be one of the most important virtues. Obedience is tightly tied to humility: without humility, that is, the defeating of one's own will, a person cannot be obedient. In turn, obedience cultivates humility. During our times, when the world around us encourages us to be "independent" from very young ages, Saint Teodora is an example of humility and obedience for us to follow if we would like to receive the Grace of God and keep it in our lives.
Second of all, Saint Teodora had a contemplative nature all her life. Growing up around monasteries, she always loved prayer, silence, and solitude. As she grew in her faith, she longed to be alone with Christ. During our times, when we are constantly surrounded by so much useless noise, it is important to seek peace and quiet and to learn how to find it. Today's society promotes sociable, extroverted, and bold natures as ideals. It is by no means wrong to be sociable; however, it is also important to learn how to be alone with Christ and with ourselves. I better understand now how important it is to be able to detach my mind from worldly things and to avoid those things which contradict Orthodox teachings; in this way, I am able to find the peace needed to grow spiritually. Given my unworthiness, I am but a novice on the path of faith; nevertheless, I understand Saint Teodora's longing for solitude and peace. As a young person who was born and raised in the United States, in a world full of noise and challenges at every step, I find it difficult at times to find this inner peace. Like some of my Orthodox friends, I find peace when I visit holy places. This was especially true when I visited several monasteries in Romania. Here, in America, I find peace and solitude when I go to Orthodox churches and monasteries. One such place for me is the Synod of Bishops of the Russian Orthodox Church in New York City, which hosts the miracle-working Kursk Root Icon of the Mother of God. When, by God's will, we visit New York City, I am not overly excited about seeing the famous attractions of "The City That Never Sleeps"; instead, my heart is filled with joy because I can see my dear friends and I can go to the Synod with yearning and devotion. I thank the Lord for the blessing of being able to pray before the many icons and relics at the Synod. In front of the Kursk Root Icon of the Mother of God, as well as before her icons from Hawaii or from the Neamț and Putna Monasteries, I feel like I am in a different time and space, unearthly, without end. After I pray before the icons, I like to withdraw into a corner of the chapel to continue to pray. Looking at the faces of the saints, all so solemn and full of love, my heart is filled with peace and warmth. I then take this peace and spiritual joy with me as precious gifts when I step into the tumult of the world outside. Similarly, I found peace and much spiritual help when I prayed before the uncorrupted relics of Saint Paracheva from Iaşi and of Saint Dimitrie the New at Bucureşti. Keeping the example of Saint Teodora in my thoughts, I strive to grow in obedience and to keep peace in my heart, even when I am surrounded by the worldly disturbances of everyday life.
I would like to conclude these lines with the beautiful words written by Archimandrite Ioanichie about Saint Teodora, words which I consider to be a perfect description of holiness: "Her soul was like a vigil lamp full of holy oil. Her eyes were two never-ending streams of tears. Her hands, two torches raised toward the sky. Her body, the stem of a pure lily. Her face, a page adorned with Holy Scripture. And her heart, a warm hearth filled with holy embers. She did not seek any of the pleasures of the world. She sought only Christ. She carried in her heart the spark of the Holy Spirit. She felt Christ close to her. She could even hear His steps. She wanted to speak only with Jesus. She wanted to light the candle of her heart with the fire of divine love. She wanted to pray without ceasing for herself and for all."
May God, His All-Holy Mother, and Saint Teodora help us become worthy to journey forward on this beautiful and blessed path of faith!
Ioana