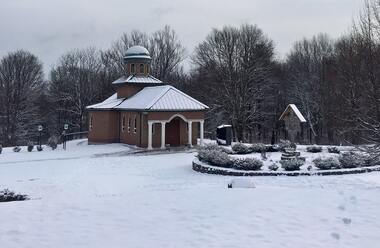 The epistle of the 30th Sunday after Pentecost is from the third chapter of Colossians of St Paul, verses 12–16: "Therefore, as the elect of God, holy and beloved, put on tender mercies, kindness, humility, meekness, longsuffering; bearing with one another, and forgiving one another, if anyone has a complaint against another; even as Christ forgave you, so you must also do. But above all these things, put on love, which is the bond of perfection. And let the peace of God rule in your hearts, to which also you were called in one body; and be thankful. Let the word of Christ dwell in you richly in all wisdom, teaching and admonishing one another in psalms and hymns and spiritual songs, singing with grace in your hearts to the Lord."
So we have, in five verses, a small textbook on Christian living. We will not comment on them all but will only highlight this one, "Let the peace of God rule in your hearts." This peace is the sign of the true Christian. It is the sign of the presence of God's grace. Father Arsenie Papacioc used to say a word I did not understand for a long time, but with each passing day I see it more and more justified. He would say, "Always have joy in your heart. That testifies you are with Christ in your heart." Peace, if we have it, is the sign we are with Christ in our hearts. So let us not exchange it for anything! Nowadays we are so bombarded with serious, even scary things that demand our attention, capture our mind and heart, and we lose our peace. We have no idea just how precious this peace is. So let us not squander it. It is very important and precious. A person is full of peace during Liturgy in the church. Wherever the Savior is, there is peace. His heart always had peace. Even during His passion, even while being spat on and held in contempt, even on the cross. There was always peace in His heart. It was what He told the apostles as well, "Let not your heart be troubled" (John 14.1).
This peace is an ever-precious gift always, but especially today. So keep it, do not let your thoughts steal it. Watch out for those thoughts! That is why the Holy Fathers urge us to be mindful of where the thoughts come from, who sends them. Are they from God? From my nature? From the devil? We ought to have this minimum of discipline. Let us not receive thoughts indiscriminately. And let us not forget that thoughts come like wolves in sheepskin. They disguise themselves as if they were good, pious, making us think we should pay attention to them. And they convince us. But most are wolves in sheepskin. How do we know? The Savior says, "You will know them by their fruits" (Matthew 7.16)—those false prophets and wolves in sheep's clothing. And the first fruit we see is the loss of peace. If we lose our peace, it means we have received a thought from the enemy. No doubt about it. And if it is from the enemy, I don't have to dwell on it because I know it is a lie—even if it is 90% true, it is overall a lie.
That is why we must be very careful. When we lose our peace, we ought to know how to regain it. How? I pray and the Mother of God gives it back. Just don't dwell on thoughts. As the Romanian saying goes, "You're stealing electricity." Meaning there is a leak somewhere, something is seeping out. This is what we wanted to emphasize: the peace of Christ, which is the sign of Christians.
All the words of this epistle are wonderful. Look at how beautifully it says: "Sing in your hearts to the Lord." A small aside here: When our abbot, Archimandrite Melchisedec, was a seminarian, he visited monasteries, as seminarians do. And there was an old, spiritually gifted nun. Father Melchisedec said that, out of nowhere, he felt like asking her: "Does the heart sing, mother?" The nun pondered for a while and replied, "It sings, sonny, because she's stupid and doesn't know to do anything else." The nun humbled herself, but she also humbled Brother Mihai for he knew not what he was asking. Yes, her heart was singing.
"In psalms and hymns and spiritual songs, sing with grace in your hearts to the Lord." Such an extraordinary epistle!