I remember with great emotion the Resurrection night and the Liturgy of our first year in Canada. Although the evening was chilly and it seemed cold all around, when we heard his soft voice and his warm, almost whispery word, we felt we were no longer alone. The Most Reverend Archbishop was a gentle and eloquent shepherd, and his words of edification were on par with his stature…
He stopped with such fatherly care and endearment before children. He asked how they were, he was amazed at how much they grew, and he never forgot to leave them with a piece of advice.
He was proud of his "Sweet Bukovina" and talked openheartedly and kindly about his place of origin and its beauty.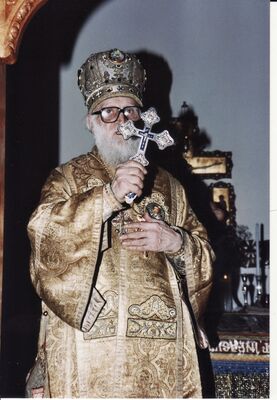 He had fatherly care and comfort for the children. He would ask how they were, wonder at how much they grew, and he always gave them a word of advice or a good moral tale. When he visited the Sunday school, he always had gifts—icons, candy, chocolate, toys—to the great joy of the children. They gathered around the gentle shepherd as if he were a grandfather who gave them not only gifts but also smiles and warmth.
I especially remember an instance when the children were crowding around, and a little boy carelessly hurried by a little girl to grab as much candy as he could. The archbishop did not scold him but gently called all the children and asked each of them to share some of their candy and chocolate with the little girl. "The gifts you have were given to you, so give from the gifts you have!" he told them. And I confess that even now, 20 years later, I still remember those words.
There were many other such times when instead of reproaching, he found the strength to guide through examples. He was attentive to those around him and leaned over the elderly with care, although he himself was very frail physically when I met him. He fasted a lot and urged us to do the same.
I hope the worthy Archbishop Victorin remains our intercessor before God; and his warm and gentle countenance, his kind words, and wise counsel are the enduring gifts he left behind.
May his memory be eternal!
Carmen Ognean