Dear Friends of Saint Dumitru Monastery,
Hawaiian Icon. The Mother of God deemed to bestow a gift upon us on the very day of her Nativity Feast. We received the news that Her Hawaiian Icon will visit our monastery on Tuesday, September 13, between 2.30-5.30pm. It is a great blessing for our monastery. We invite all those who can come, to accompany the Icon with our prayers in the church of our monastery.
In June of 2008, the "Hawaiian" Myrrh-streaming Iveron Icon was officially recognized by the Russian Orthodox Church as miraculous and worthy of veneration. Since then, the Icon has been venerated by millions of people throughout the United States, Canada, Europe and the world. Numerous miracles have been attributed to the Theotokos through this "humble little Icon", hundreds of verified accounts were collected, and are indeed miraculous. Physical and spiritual healings have included the healing of blindness and eye disease, cancer, demonic possession, paralysis, kidney disease, chronic pain, and debilitating viruses. Wherever the holy Icon goes, the Grace of Our Lord Jesus Christ and His Holy Mother abound. For more information, please visit: https://www.orthodoxhawaii.org/icons.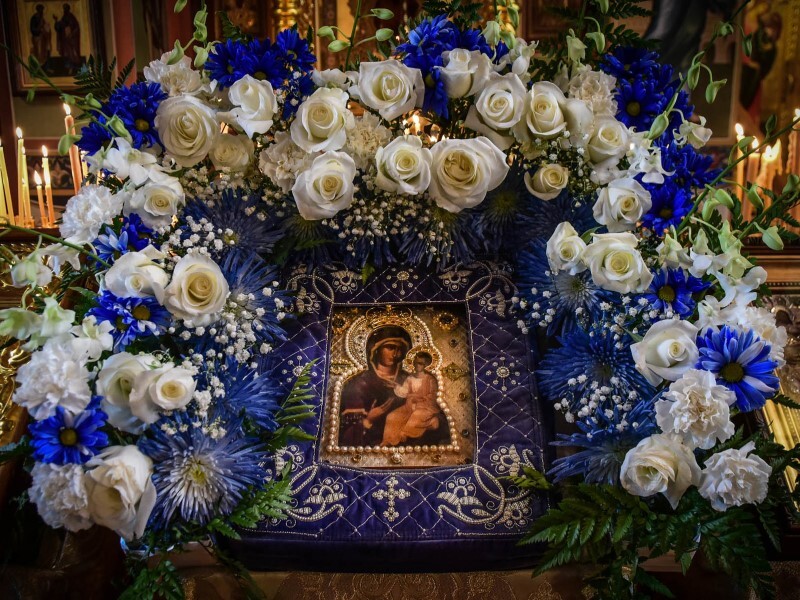 Fall Feast. We take this opportunity to announce that we will celebrate our Fall Patron Feast (Saint Dumitru) on Saturday, October 29. We invite you to partake of the grace of our patron saint and of the blessing and prayers of our Metropolitan, HE Nicolae, and those of the other priests. The Divine Liturgy will start at 9.30am. As usual, during the agape, we will sing several hymns dear to our souls. We are looking forward to seeing you.
In Christ, our Lord and Savior,
Protosinghel Ieremia
Abbot of Saint Dumitru Monastery