Saint Gregory the Theologian was born in 330 in the city of Nazianzus, in Cappadocia. His parents, Nonna and Gregory, were of good and faithful stock; his mother was a right believing Christian, and his father converted and was later ordained bishop of Nazianzus.
A great lover of books, he was educated in cities such as Caesarea in Cappadocia, Caesarea in Palestine, and Alexandria. During his studies in Athens, he met Saint Basil the Great with whom he forged a special friendship and strived toward the acquisition of virtues. Despite his desire for asceticism, Saint Gregory yielded to his father's entreaty of being ordained to the holy priesthood. He helped administer the diocese in Nazianzus, then led the one in Sasima, and later became bishop of Constantinople.
The Church gave him the name of "Theologian" because of his prolific writings that included orations, letters, and poems, and especially the Five Theological Orations delivered in Constantinople, which exposed and defended the teachings about the Holy Trinity.
His extensive poetic work intertwines high theology with the sensitivity of his soul and was elaborated toward the end of his life. The purpose of the poems was to strengthen the Christian teachings presented in an artistic form and to combat heresies. Saint Gregory wrote about 20,000 verses, classified into dogmatic and moral theological poems, and historical poems. His historical poetry includes a series of autobiographical poems, most of which are short epigrams and epitaphs.
Saint Gregory fell asleep in the Lord on January 25 in Nazianzus, and later Emperor Constantine VII Porphyrogenitus (913–959) translated his relics to the Church of the Holy Apostles in Constantinople. We present below some of his poems.
To Christ
What tyranny is this? I came into life. Very well. But then why does she twist me so with her enormous waves? This is a bold word, but I shall say it, Had I not been Yours, I would have been wronged. We are born, we fall apart, we fulfill ourselves; I sleep, lie down, watch, walk; we are sick, we are well, we experience pleasure and pain. We have the seasons of the sun, the seasons of the earth, we die and our body rots. These are also typical of animals, which have a bad reputation but are not to blame. What do I have more than they? Nothing but God. Were I not Yours, I would be wronged, my Christ!
To His Own Self
Some honor gold, others silver, and still others a copious meal, trinkets of this life. Others prize beautiful silk fabrics, others fields full of wheat, and others stables with cattle. But for me the greatest wealth is Christ, Whom I may one day see clearly with a clean mind; may the world have the rest.
On the Desire for God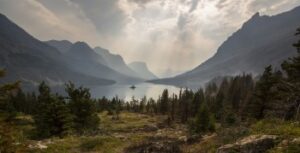 O mother, why did you give birth to me, why did you birth me full of so much pain? Why did you give me to this thorny life? If you went through it without worries, as a bodyless one, then it would be a great miracle. And if you were subject to them, then you did not birth me loving me. Every man goes through life in a different way: one plows the furrows of the field, another furrows the sea; one is a hunter, another holds a spear in his hand; one is good at singing, another wins prizes in the arena. My fate is God, many pains, and being exhausted here by an ugly disease. Bite me, bite me, ruthless one! How much longer? I will gladly leave you and your hardship immediately. My mother, why did you give birth to me if I cannot know and express God as much as I desire? A small glow of the heavenly Trinity of equal light enveloped the eye of my mind, but its greatest part escaped me—and that hurts—like lightning flying fast before I could sate with its light. But if I attained to it, beloved Trinity, I would no longer reproach my mother's womb. I was born for good. But save me, save me, O Word of God, and tearing me out of the bitter mud, take me to another life wherein the pure mind, no longer beclouded, dances round You, O most radiant One!
Epitaph on Himself
First, God gave me to a luminous mother who prayed for me.
Second, she received me from her womb as a pleasant gift.
Third, a righteous [Eucharistic] supper saved me as I was dying.
Fourth, the Word gave me a double-edged word.
Fifth, virginity enveloped me in pleasant dreams.
Sixth, I carried the priesthood in one mind with Basil.
Seventh, the Giver of Life seized me from the nadirs' bosom.
Eighth, he cleansed my hands through disease.
Ninth, I introduced, O Emperor, the Trinity into young Rome.
Tenth, I was stoned by friends.
Another Epitaph
Lightning angels who surround in infinite circles the equal radiance of the Deity of the Three Lights, receive Gregory the unworthy, but still a priest.