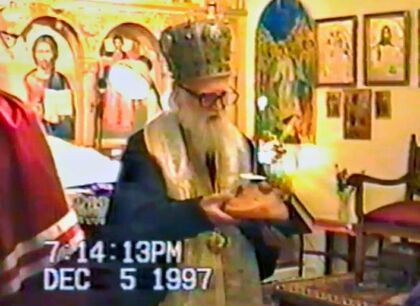 His Eminence Victorin would visit St. Nicholas Church in Queens year after year for our feast day. We were very moved every time we saw him. He would comfort us with his warm gaze and with his gentle words. He loved people, he loved the Church services, and he loved our choir. For each one of us, he had a word of encouragement and of comfort. We felt a great amount of peace, calm, and joy in his presence. During the Divine Liturgy, tears often welled up in his eyes. He had remarkable humility. He wore used vestments and traveled only by bus. We thought he didn't have other vestments and I mentioned to Father Vasile Vasilache, "Father, what do you think, should we get new vestments for His Eminence?" Father Vasile responded: "Yes, you can buy him new vestments, but he'll continue to wear these ones, and he'll give the new ones as a gift to someone." He was very modest, very unassuming, and material things did not attract him. He always had his pockets full of candies and chocolates, which he shared with the children after the Divine Liturgy.
After the service, we would kneel before the altar, and His Eminence Victorin would place his vestments over us and pray for our souls. These were very powerful moments. People cried. We felt how the grace of God descended upon us.
One year, the feast of Saint Nicholas fell on a Sunday, and he is our family's patronal saint. We desired so much to host His Eminence Victorin together with Father Vasile at our house, but we didn't dare address His Eminence directly. Father Vasile encouraged us to muster up the courage and ask him. To our surprise, His Eminence accepted our invitation with joy.
Once we arrived home, His Eminence and Father Vasile said some prayers, they cut the blessed bread, and we sat down at the table together. We sung many carols, and His Eminence and Father Vasile gave us spiritual advice.
In that period, there was word about a new Romanian saint, Saint John Jacob the Chozebite, about whom we knew nothing. When we asked His Eminence if he knew the saint, he smiled and told us that he received him into the brotherhood at Neamț Monastery and that later, they served together in the Holy Land. When we asked him what a saint looks like on earth, His Eminence replied, "What can I tell you? He never got upset." We were still like statues and tears came to our eyes.
Upon his departure, His Eminence left us with the following words: "I have no words to express my joy for participating in this feast and I feel so good, as if I were in my Bukovina, because Saint Nicholas is the patron saint of my home too."
As he left, he blessed all of us present and we said our goodbyes. Unfortunately, this was our last meeting.
Anecdotes
His Eminence shared several stories from his life. On one trip to Canada, he arrived at customs but he couldn't find his passport. The border patrol officers told him to step out of the bus, but in the meanwhile, His Eminence found his documents. When they learned that His Eminence was a citizen of honor of the city of Winnipeg, they asked for forgiveness, but His Eminence hadn't been upset even in the slightest.
Father Vasile Vasilache awaited him with food: 'lazy sarmale'. In other words, they were made from chopped cabbage mixed with rice. His Eminence told Father: "You are lazy, not the sarmale."